Cooky is a universal kitchen helper that allows you to remotely monitor your pot, grill or oven in order to save time and energy.  It helps to reproduce recipes successfully and effortlessly.
Cooky measures the temperature in the pot, oven or grill and detects in the pot if something boils over. It sends this information remotely to the connected App. On the smartphone you can choose a recipe and control the cooking steps and time.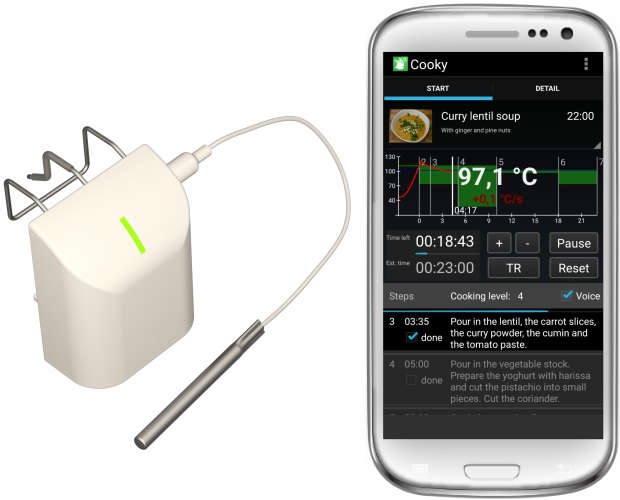 An energy saving algorithm can estimate the cooking time. It is easy to use with a free cooking mode as well as a step by step mode for more complex recipes.
Only download the free App from the App Store and connect it to the Cooky.
You can use Cooky with every pot. When using its plug probe sensor, it can also be used for barbecuing and in the oven.
What is Cooky suitable for?
Easy cooking processes like pasta, rice, beans, lentils, potatoes etc.
More complex one pot recipes with step by step instructions
BBQ, oven, grill or smoker, ambient and core temperature
Jam
In all these cases Cooky enables you to leave the kitchen during the cooking process, hence you save time. In addition, when cooking one pot recipes, step by step instructions help you with the preparation of the ingredients.
And finally, in the BBQ mode, the core and the ambient temperature in your oven, grill or smoker is controlled remotely.